VOLATILITY BREAKOUT STRATEGIES
VBO PORTFOLIO
In VBO Strategies, the trader is not concerned in long term forecast but only in immidiate price action.
A VBO system is always taken in the direction that the market is moving, usually entered via a Buy/Sell stop.
The imbalance between supply and demand causes range expansion, or the market seeking a new level.
So when Long, the trader is looking to Sell.
So when Short, the trader is looking to Buy.
VBO oders are based a percentage of the x day range and orders set on the closing or opening price.


In order to reduce risk in a VBO portfolio:
- Diversify with non-correlated instruments
- Calculate maximum risk per instrument
- Adjust position size with Vol. per instrument.
Example: Volatility Range Breakout Portfolio.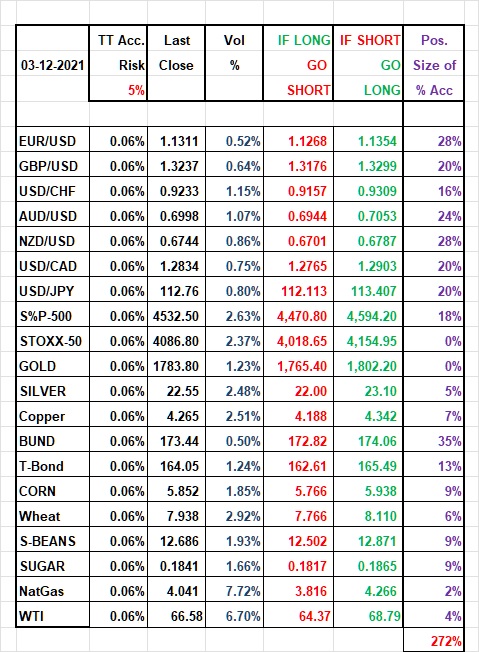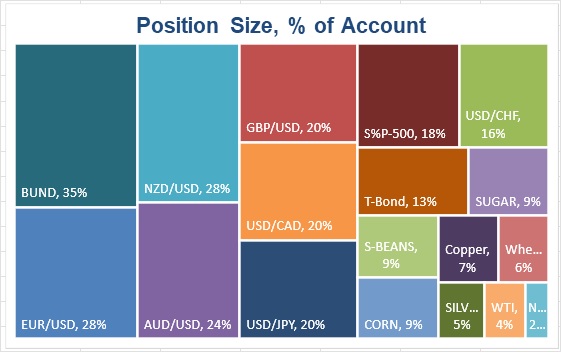 Another type of Breakout is the Opening Range Breakout.
It's based on last week price range adjusted by current market volatility.
Higher volatility = higher range.
Lower volatility = smaller range.
Checkout the 2 PDF basic strategies below.
- Opening Range Breakout, Basic (PDF)
- Opening Range Breakout, Advanced (PDF)
RISK WARNING
THE ESTIMATE OF THE FUTURE PERFORMANCE OF (FINANCIAL) INSTRUMENTS, SEE ABOVE, IN THIS REPORT MAY DEVIATE FROM THE ACTUAL PERFORMANCE OF THE INSTRUMENTS. HYPOTHETICAL OR SIMULATED PERFORMANCE RESULTS HAVE CERTAIN INHERENT LIMITATIONS. UNLIKE AN ACTUAL PERFORMANCE RECORD, SIMULATED RESULTS DO NOT REPRESENT ACTUAL TRADING. IN ADDITION, SINCE SOME OR ALL TRADES HAVE NOT ACTUALLY BEEN EXECUTED, THE RESULTS MAY HAVE UNDER-OROVER COMPENSATED FOR THE IMPACT, IF ANY, OF CERTAIN MARKET FACTORS, SUCH AS LACK OF LIQUIDITY OR FAST MARKET CONDITIONS. NO REPRESENTATION IS BEING MADE THAT ANY ACCOUNT WILL OR IS LIKELY TO ACHIEVE PROFITS OR LOSSES SIMILAR TO THOSE SHOWN. IN FACT, THERE ARE FREQUENTLY SHARP DIFFERENCES BETWEEN HYPOTHETICAL PERFORMANCE RESULTS AND THE ACTUAL RESULTS SUBSEQUENTLY ACHIEVED BY ANY PARTICULAR TRADING PROGRAM. ONE OF THE LIMITATIONS OF HYPOTHETICAL PERFORMANCE RESULTS IS THAT THEY ARE GENERALLY PREPARED WITH THE BENEFIT OF HINDSIGHT. IN ADDITION, HYPOTHETICAL TRADING DOES NOT INVOLVE FINANCIAL RISK, AND NO HYPOTHETICAL TRADING RECORD CAN COMPLETELY ACCOUNT FOR THE IMPACT OF FINANCIAL RISK IN ACTUAL TRADING. FOR EXAMPLE, THE ABILITY TO WITHSTAND LOSSES (AND INCUR ACCOUNT DRAW DOWNS) OR TO ADHERE TO A PARTICULAR TRADING PROGRAM IN SPITE OF TRADING LOSSES ARE IMPORTANT ISSUES WHICH CAN ALSO ADVERSELY AFFECT ACTUAL TRADING RESULTS. ONLY RISK CAPITAL SHOULD BE USED FOR FOREX, COMMODITIES, FUTURES AND OTHER FINANCIAL INSTRUMENTS TRADING DUE TO THE HIGH RISK OF LOSS. THE CALCULATED RISK/REWARD SHOULD BE REGARDED AS HYPOTHETICAL ALSO AND AS AN ESTIMATE OF POTENTIAL GAIN AND LOSS. THE CALCULATIONS DO NOT TAKE TRADING COSTS AND SPREADS INTO ACCOUNT. THERE WILL HOWEVER, BE CALCULATED A SLIPPAGE WHEN THE HYPOTHETICAL PERFORMANCE IS BEING CALCULATED.

© 2000-2023 2HEDGE Company All rights reserved.